My Search History is REKT - Toon In #150
1 year ago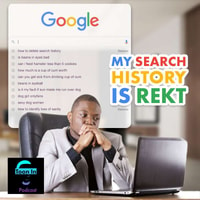 This episode was gonna be called Casual Cumversations so if that doesn't explain how this one went, I don't know what will. We have some insane hypotheticals, and about a months worth of Off My Chest discussions to catch up on so we said let's cram it all into one episode and shove it down our Toon Goon's ears.
Guests: Jimmy, Bods, Amy
Tasty Morsels
Important If you've been enjoying our show, please take a moment to fill out our survey: http://survey.podtrac.com/start-survey.aspx?pubid=yMqNwL3iHmTI&ver=standard It will help us tremendously and we will be able to continue bringing you content that you will enjoy!
Wanna stay connected with us? Instagram and Twitter: @ToonInEnt
Email: [email protected]! Text us!: 260-7TOONIN (260-786-6646)
If you haven't already, please subscribe on whatever platform you listen from! If you're not sure how to do that, just head to toon-in-podcast.pinecast.co and click whatever method you want to use. While you're there, you might as well leave us a nice rating. It helps other people find us and makes my day 100x happier!
Search Tags:
miserable #evil #would #you #rather #hamster #cookies #starve #trivia #crack #money #glass #cum #dog #car #hit #stop #miss #almost #beans #eye #girl #sexy #six #figures #onlyfans #flips #instagram #read #mind #fight #clothes #rack